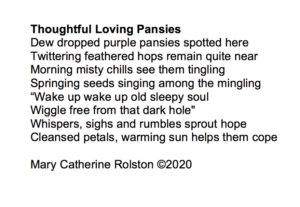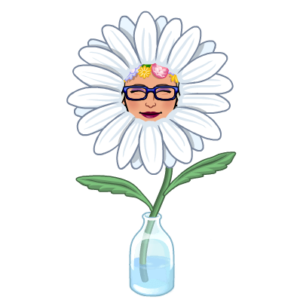 Did you know that the pansy is a symbol of love and admiration?
Given all the hurt and sorrow in the world right now, might we consider balancing our feelings of pain and grief simultaneously with feelings with hope. What can we use to help us focus on hope? Flowers. Each flower holds symbolism. Research has proven that flowers have a positive effect on our emotions. Why not create wild flower bouquets or make a point of purchasing flowers whether for a vase indoors or in our gardens?
Growth brings hope and excitement. It is spring and our communities are in full bloom. Why not take advantage of this with your children? If your child is reluctant to study why not get them planting seeds. They can be planted in small peat pots from the Dollarstore then placed by a sunny window. The children can water them, watch them grow, measure them, then replant then in garden soil or larger pots. Children can then experiment with seeding basic scraps from produce that we eat. The plant growth can be graphed. The children can research the symbolism of the flowers or plants. If the plant supplies a food source you can eat it prepared for dinner, how fun!
We can also use plants to experiment. Celery can be used to with show how water is sucked up by placing the celery in water coloured by food colouring. Or, we can use potatoes to create a battery! There are so many resources just with a google search and click.
Let's turn to our earth and plants to heal.
Dazzle's Challenge: Write a poem about your gardening project or about the spring flowers.
Quick Take Away Links:
Growing plants from food scraps
http://www.eatingwell.com/article/290729/how-to-grow-fruits-vegetables-from-food-scraps/
https://empressofdirt.net/regrow-vegetable-scraps/
Research on the powerful effects of flowers
https://aboutflowers.com/quick-links/health-benefits-research/emotional-impact-of-flowers-study/
https://www.asiaone.com/lifestyle/healing-power-flowers-how-they-make-us-feel-better
All flowers have meanings
https://gardentherapy.ca/pansy-crafts/
Great spring art and craft ideas
https://www.projectswithkids.com/spring-art-projects/
Science experiments with fruit and veggies
https://www.sciencebuddies.org/science-fair-projects/project-ideas/experiment-with-fruits-and-vegetables
https://www.wikihow.com/Create-a-Potato-Battery