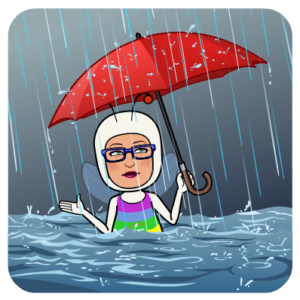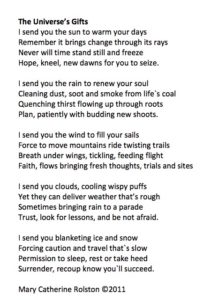 What is considered the safest topic to chat about? The Weather….
In Canada we chat about weather a lot and we seem to complain about it a fair bit too. Weather is out of our control, so why not enjoy it for what it offers us. I wrote this poem in attempts to think of weather in all its forms as a blessing not a curse. The old saying: Every cloud has a silver lining points us to every event in life is to teach us something new. I found another extension to this saying by Maurice Setter: Too many people miss the silver lining because they are expecting gold.
Earlier in my bloggaganza (my 100 posts in 100 days), I referred to Mo Gawdat Solve for Happy https://www.solveforhappy.com/ where Mo suggests to us that our happiness is dependant on events meeting or exceeding our expectations. Bottom line, we need to stay in the moment and accept what is, rather than always expecting and needing perfection or 'gold'.
Dazzle's Challenge: Why not catch yourself if about to complain about the weather and think about the benefits of what the weather at the moment might bring. Reframe and rethink with a sprinkling of glamour (glamour is a special ingredient found in the forests by the fairies. Glamour is used as it has a magical property of changing anything negative to positive, anything ugly beautiful). So let's sprinkle the fairy dust, metaphorically reminding us to magically transform our own perspective. POOF!
Note: I once gave a little friend Olivia, sparkly lipgloss. I told her it had glamour and explained glamour's magical properties. I suggested to her that whenever she says something unkind or ugly that she use the sparkly gloss on her lips to remind her to speak with beautiful and kind words and apologize for nay negativity spoken.
Quick Take Away Links:
The Weather
https://www.verywellmind.com/small-talk-topics-3024421
https://www.cbc.ca/news/canada/why-do-canadians-talk-so-much-about-the-weather-1.1303911
An interesting perspective
https://eaccares.com/2015/09/complain-about-the-weather/
Love this commentary
https://medium.com/ministrymatters/it-is-a-sin-to-complain-about-the-weather-2ded1d7574a8