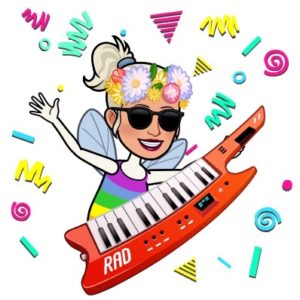 Music therapy starts with leadership from our musicians.
Did you know that we have a Canadian singer who is doing all in her power to support people struggling with addiction, especially during this very vulnerable time? Who is she? Michele Titian https://michelletitian.com/biography/
I met Michelle while teaching kindergarten at Queen Victoria Elementary school. At the time she was a parent volunteer. She was great inspiration in our room, leading special sing songs with our class and with the input of the kids, wrote two songs that we featured on our Twinkle Kindie Twinkle video. We would often listen to the beautiful song she wrote for her song, Luka and Joelle. Actually she has sent me a link to this song as I've told her how much I love it and want to share it with parents of little ones. Click here to enjoy it   
 Little did I know at that time she was in the earlier stages of her recovery journey while starting her own business AND keeping her music career a float.
We have kept in touch for the last five years. I've attended her gigs at local restaurants in Hamilton. Once we moved out west we have been hoping that she might be able to perform out here at Bear Mountain. Last, year we met for lunch back in Toronto and she shared her story with us while offering support to our eldest son who just took the courageous journey through recovery. She shared her new project with us, The Drive Foundation https://drivefoundation.org/ supporting mental health and fighting addiction through supporting artists exhibitions and performances as they forge through recovery. In addition, the foundation is supporting crisis help and education. At that time she was completing a documentary about her journey. https://www.youtube.com/watch?v=gOumRhTSYj and was interviewed by Huntley Street where she shares her story. https://www.youtube.com/watch?v=QVcL_wimSEo
Her song Drive https://www.youtube.com/channel/UCEfMW9lHp1FxR2LGpFR713g is riveting as it describes her soulful journey. Michelle is committed not only to producing music that calls attention to the struggles of mental health and addiction but is determined to listen and support others, helping them to see that there is hope and an avenue to heal. She is very concerned with the pressure that has come to bear on many during this pandemic. As such, she has created a women's emotional sobriety group that now has over a 1000 memebers and can be accessed on Facebook under the title of Women in Recovery. It is a virtual meeting platform, sharing their stories and offering support. Here is her email if you are interested in connecting with her and obtaining more information….tell her MC sent you, [email protected]
Michelle is on a mission to heal through music. I encourage you to follow her music, consider donating to the Drive Foundation and if you are struggling with mental health or fighting addiction, she is only an email away willing to listen and offer you resources and support. She is a singing angel on a mission!
Dazzle's Challenge: Check out The Drive Foundation and consider offering support.
Quick Take away Links:
Story I wrote inspired by Michelle and Luka. The hope was that it would open up discussions with elementary level children on something that can cause addiction with kids: sugar.
https://www.youtube.com/watch?v=ajw5dtNpg-k
Twinkle Kindie Twinkle
https://www.youtube.com/watch?v=MjATMLXBrlU